Used 2015 Tadano GR-750XL for sale
Alberta Crane Service Ltd is proud to present the 2015 Tadano GR-750XL for sale. This equipment is currently listed in Excellent condition. The 2015 Tadano GR-750XL is classified as a Rough Terrain Cranes. This Tadano comes with 141' of boom , and 58' of jib.
category
Rough Terrain Cranes
Additional Information
Five section full power partially synchronized boom 36.1'~141.1' 33.1' or 58.1' bi-fold lattice jib (tilt type) with 3.5°, 25° or 45° pinned offsets and self storing pins Auxiliary lifting sheave (single top) stowable Variable speed main hoist with grooved drum, cable follower and 797' of ¾" cable Variable speed auxiliary hoist with grooved drum, cable follower and 436' of ¾" cable Drum rotation indicator (thumper type) main auxiliary hoist Anti-two block device (overwind cutout), Boom angle indicator Tadano electronic load moment indicator system (AML-C) Outrigger extension length detector, Electronic crane monitoring system Tadano twin swing system and 360° positive swing lock Self-centering finger control levers with pilot control Hydraulic oil cooler Hot water cab heater and air conditionerano Telecommunications terminal (HELLO-NET Owner's Site) Positive control Quick-reeving type bi-fold jib Independently controlled outriggers Four outrigger extension positions Cummins QSB6.7 turbo charged (267HP) Electronic controlled automatic transmission driven by torque converter 4 x 4 x 4 drive/steer, Non-spin rear differential, Automatic rear axle oscillation lockout system 29.5-25 22PR (OR) tires or 29.5-25 28PR (OR) tires 6.2 ton (5.6 metric ton) hook with swivel 75 ton (68.0 metric ton) 7 sheave with swivel hook and safety latch for ¾" (19mm) wire rope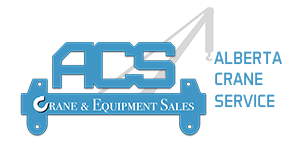 Founded in 2013, Alberta Crane Service Ltd. has quickly become well-known and respected in the heavy equipment industry. Located in Edmonton, Alberta, Canada, Alberta Crane Service Ltd. is a proudly Canadian owned and operated company providing you with over 38 years experience in the crane industry. With our cranes located worldwide, we are proud to offer our customers with a service and professionalism that cannot be matched. We specialize in buying and selling cranes all over the globe.